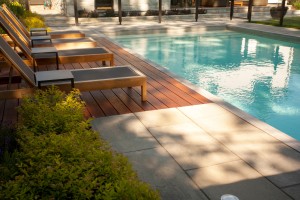 This contemporary landscape was conceived by our landscape architect, Ellen Rasnikoff, to compliment both the interior and exterior of this beautiful T.M.R. home. IPE wood was used to add a warm texture on the upper patio and the sundeck surrounding the pool. This wood does not rot and withstands our harsh winter conditions. The pool itself was positioned to one side of the property to help conserve a large existing tree and allow this family of five enjoy a children's play area! The clients wanted an herb and vegetable garden, we were able to incorporate one into the patio that adds a sense of family to the landscape. This is a small but significant addition to any family backyard!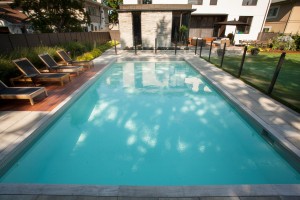 The paver of choice in this backyard was Techo-Bloc's Blu Grande, the walls are Blue Ciel natural stone, and the pool is caped with St-Marc Limetstone.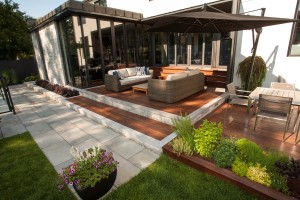 Whether the outdoor space is used for an intimate dinner party for 4 or a garden party for 40, this backyard will undoubtedly impress the guests!