The one thing that sets our company apart from the other pool and landscaping companies is that we can provide turnkey service. This Île-Perrot project is just one example of this service.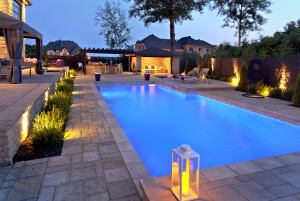 The family wanted a resort right in their backyard! There are many elements that make up this oasis, including the pool with it's water curtain feature, the sunken fire pit that seats 20 comfortably, the cabana that provides shelter and a beautiful twilight atmosphere, the fully equipped outdoor kitchen, the terraces that surround the pool and the plantings that give this outdoor space the finishing touch! All beautiful and all came together to keep this family and their friends entertained.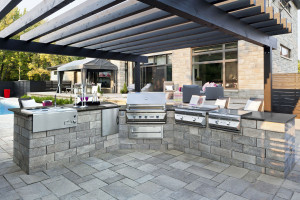 This property was featured in the 2014 Techo-Bloc catalog.
Pictures courtesy of Techo-Bloc.