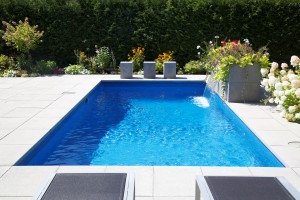 This Cartierville, QC client contacted Groupe Paramount to realize their backyard dream! Lee Gregory, one of our project managers oversaw this turnkey project. The clients' vision, along with Lee's expertise, allowed a backyard dream to become a backyard reality! Lee took care of acquiring a city permit, choosing the stone and materials, and made sure the clients were well informed throughout the process.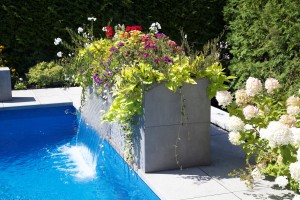 This vinyl pool was capped with a Giga Slab from Transpavé, the capping stones were symetrically lined up with the rest of the pavers on the terrace to give it a seamless look. The oversized planter is impressive with the beautiful plantings and cascading curtain waterfall. It was built using Citi Walls from Transpave.
Now that this client's vision has come full circle, they are free to enjoy some poolside drinks in their modern designed backyard!