This Saint-Laurent home is a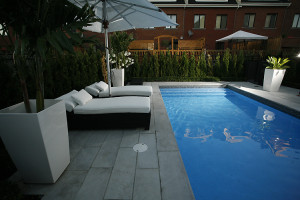 perfect example of how you can create a beautiful outdoor space in a small urban setting. To maximize the size of the pool, it was designed in a rectangular shape that gives it clean lines and the large steps in the pool establish a wide & inviting opening. To complement the pool, we laid St. Marc limestone, quarried in Québec, in a linear brick pattern to give the small space a large look & feel. A more affordable option, which gives the same overall look, is to use a man-made linear cut stone. The clients oversized planters give the space height which also expands the impression of the terrace. Tall cedars were planted around the perimeter of the property to give some much needed privacy. Our professional team is ready to plan your backyard oasis, whether big or small!
Want to see more projects? Head over to our main site.