Category Archives:
Infinity Pool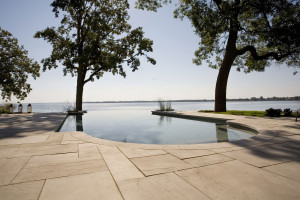 The view from this Île Perrot oasis is hard to beat. The infinity pool was designed to look like it flows right into the Lac des Deux – Montagnes! The pool was placed outside the covered patio and between two magnificent mature trees that have graced this waterfront property for many years.
To stay in tune with nature, we used Techo-Bloc's Aberdeen man made stone in Rock Garden Brown for the pool surround and multiple terraces and the Quebec-quarried St. Marc limestone which was bush hammered for the pool caps.
When looking towards the house, the pool looks completely different. The infinity ledge was built with the same stone that was used on the house. The planting around the pool was kept at a minimum in order to keep the focus on the glittering water that seemingly flows into the lake! Beautiful.
The planning for this landscape project was extensive!  The 40′ by 20′ foot long concrete infinity pool has a hot tub on one end, a tanning ledge on the other end and steps that run the length of the pool in between.